Cosulich Interiors
Davide Dona Modern Black White and Crystal Clear Murano Glass Sculptural Vase
750PD
Regular price
$3,350.00
/ Item
Regular price
Sale price
$3,350.00
Unit price
per
Sale
Sold
Monumental Italian Art Glass vase, one of a kind contemporary Work of Art signed by Davide Donà. The mouth-blown execution is extraordinary considering the important size and weight. The decoration quite difficult to achieve is realized with an overlaid crystal clear Murano glass body worked with black glass sections in incalmo and with sophisticated inclusions of expanded murrine in white and black, applied like strokes of a modern painting, that give movement to this curved and sensual decorative object. This piece is made precious by different Battuto hand-engraved techniques that give an exceptional decorative texture to the body and enhance light reflections. Davide Donà, from the illustrious Donà family of Master Blowers, is recognized for the rare ability to blow oversized pieces that require exceptional handling and maestria in working quickly with precise movements, several of his pieces have been displayed in the Murano Glass Museum. Measure: diameter of base 5.25 in. On display at our NYDC Showroom.
FREE CONTINENTAL US SHIPPING
Dimensions

18 in. H x 15 in. W x 8.25 in. D
45,7 cm H x 38 cm W x 21 cm D


RETURNS POLICY
No Refunds
Exchange Within 30 Days or Store Credit
TERMS OF SERVICE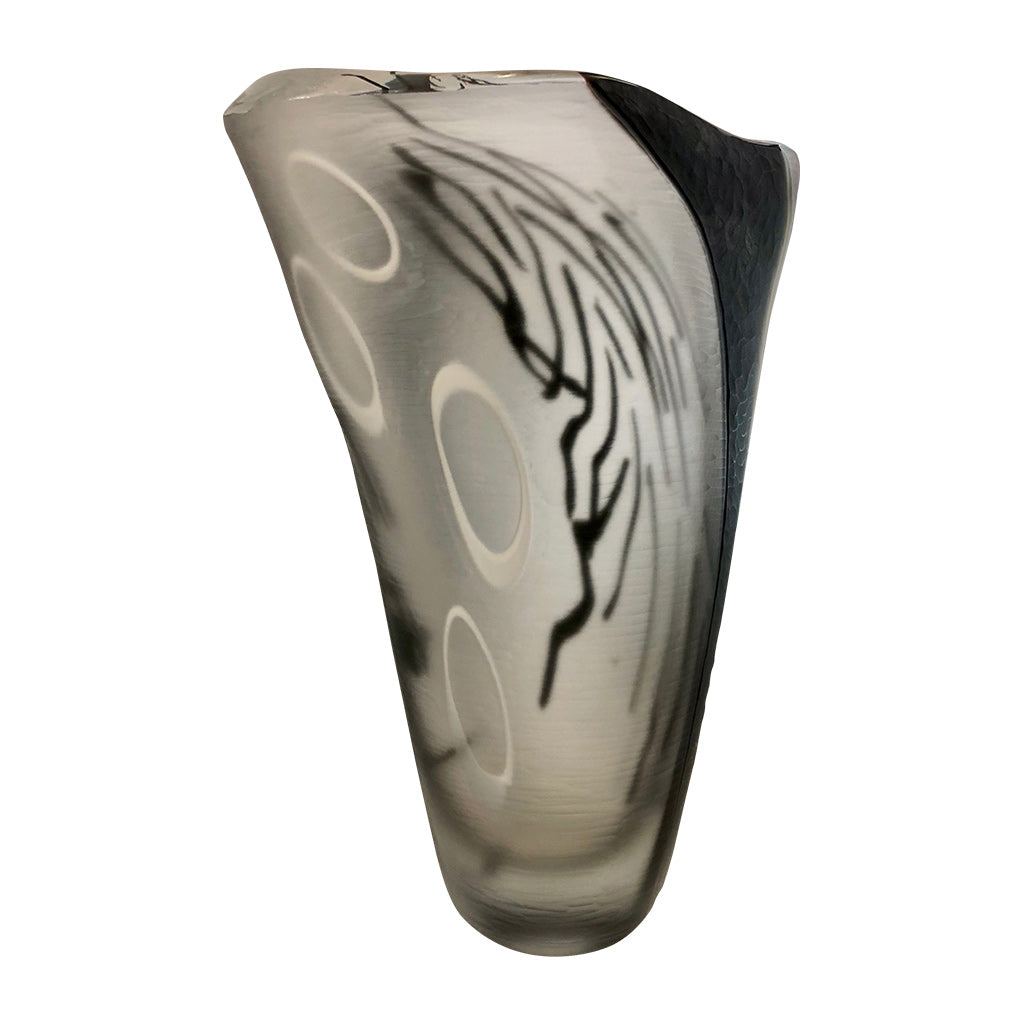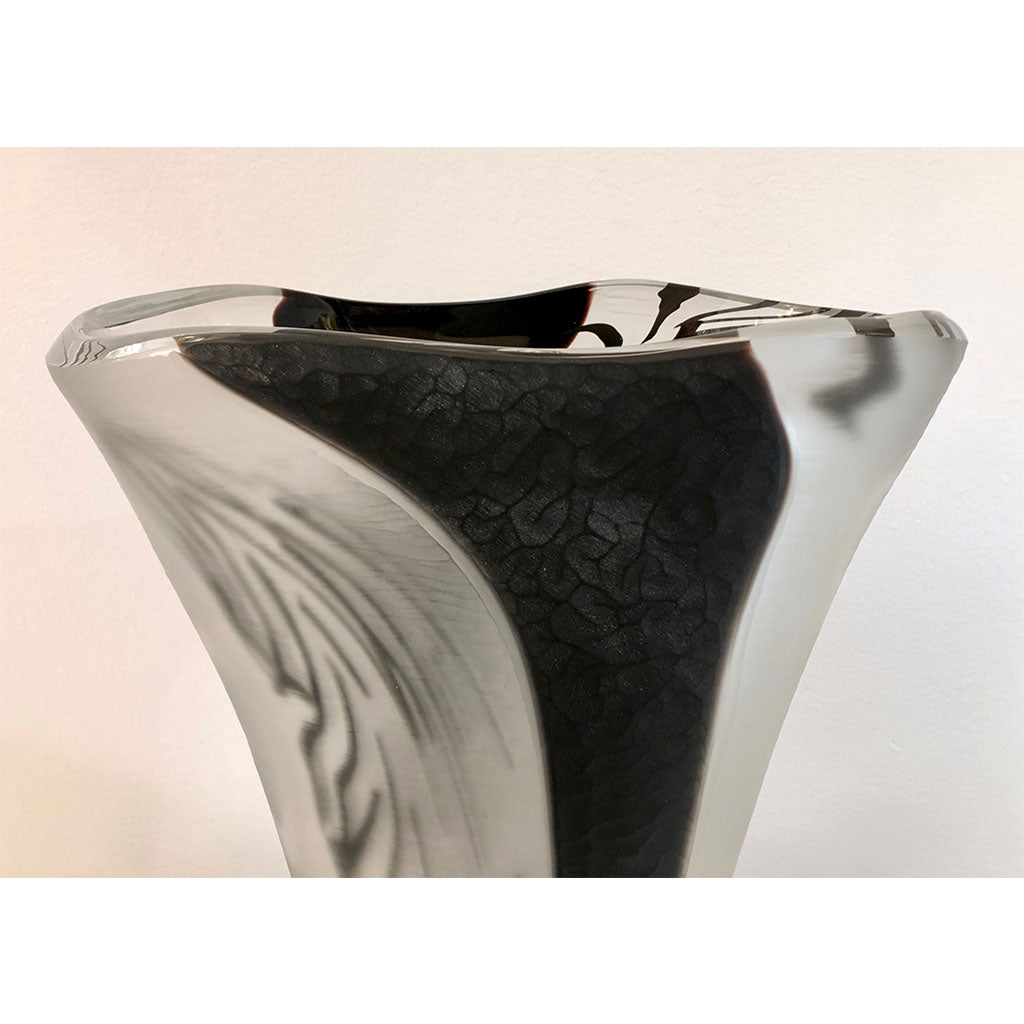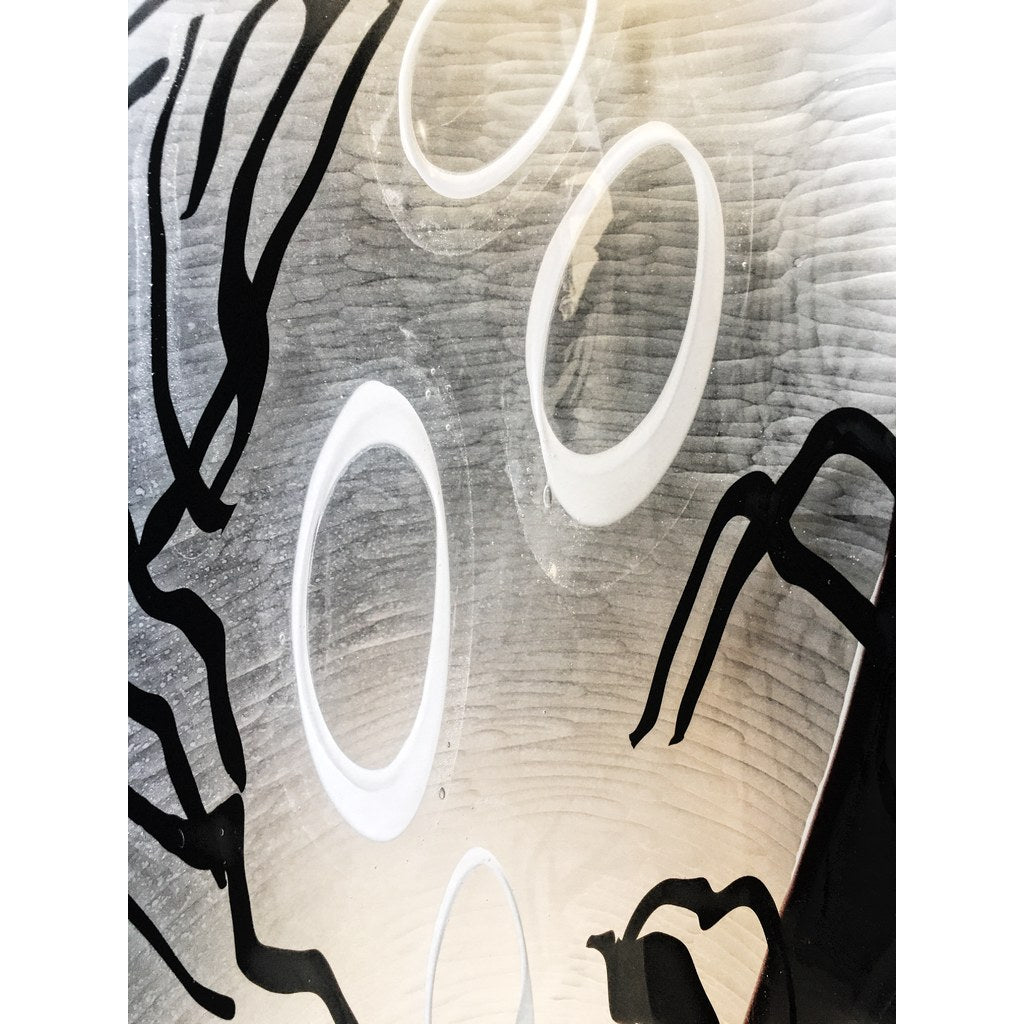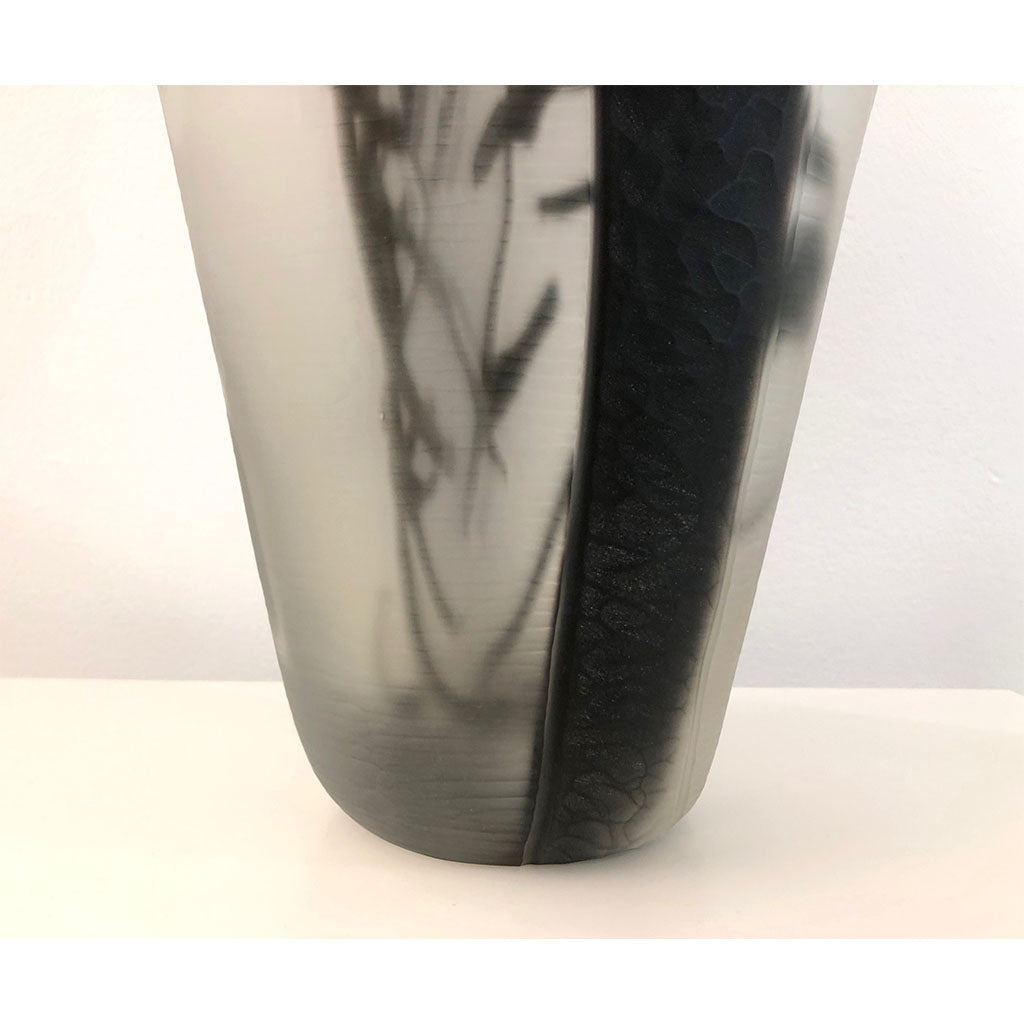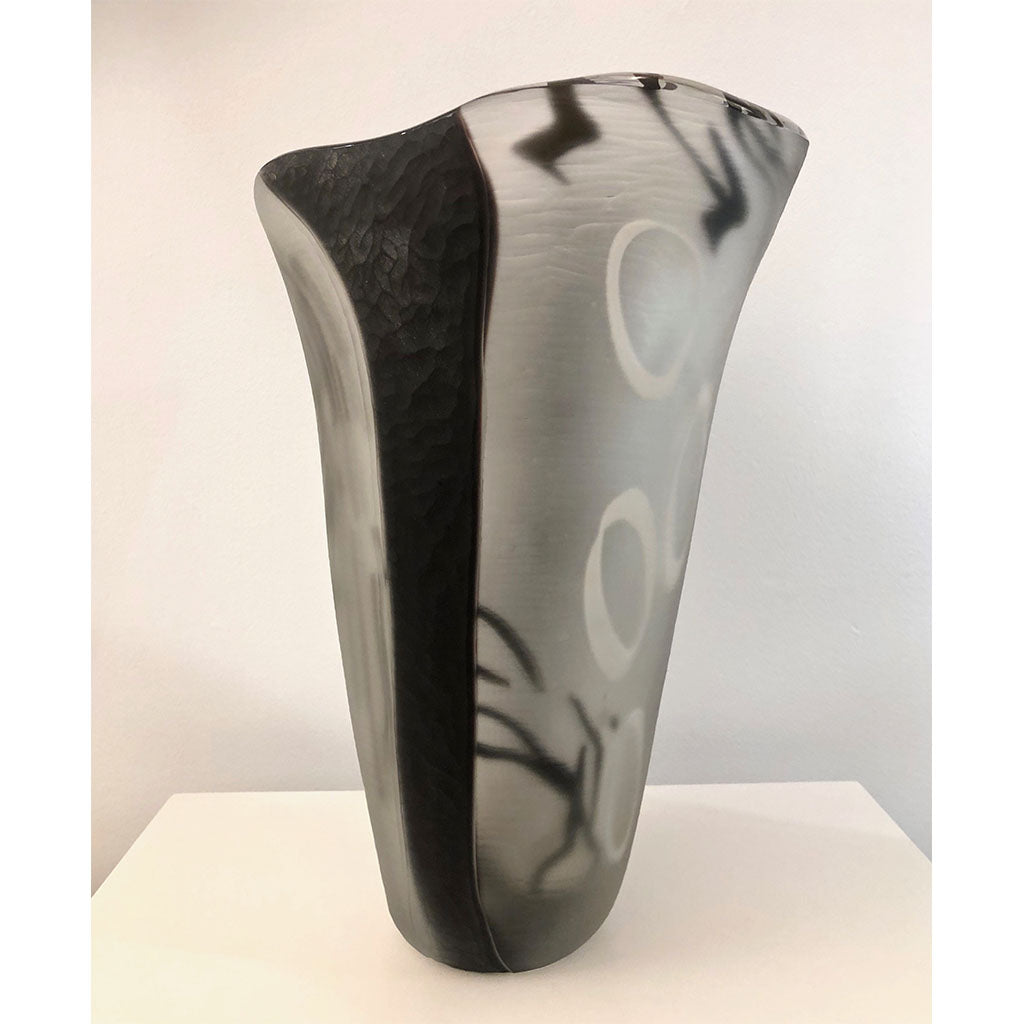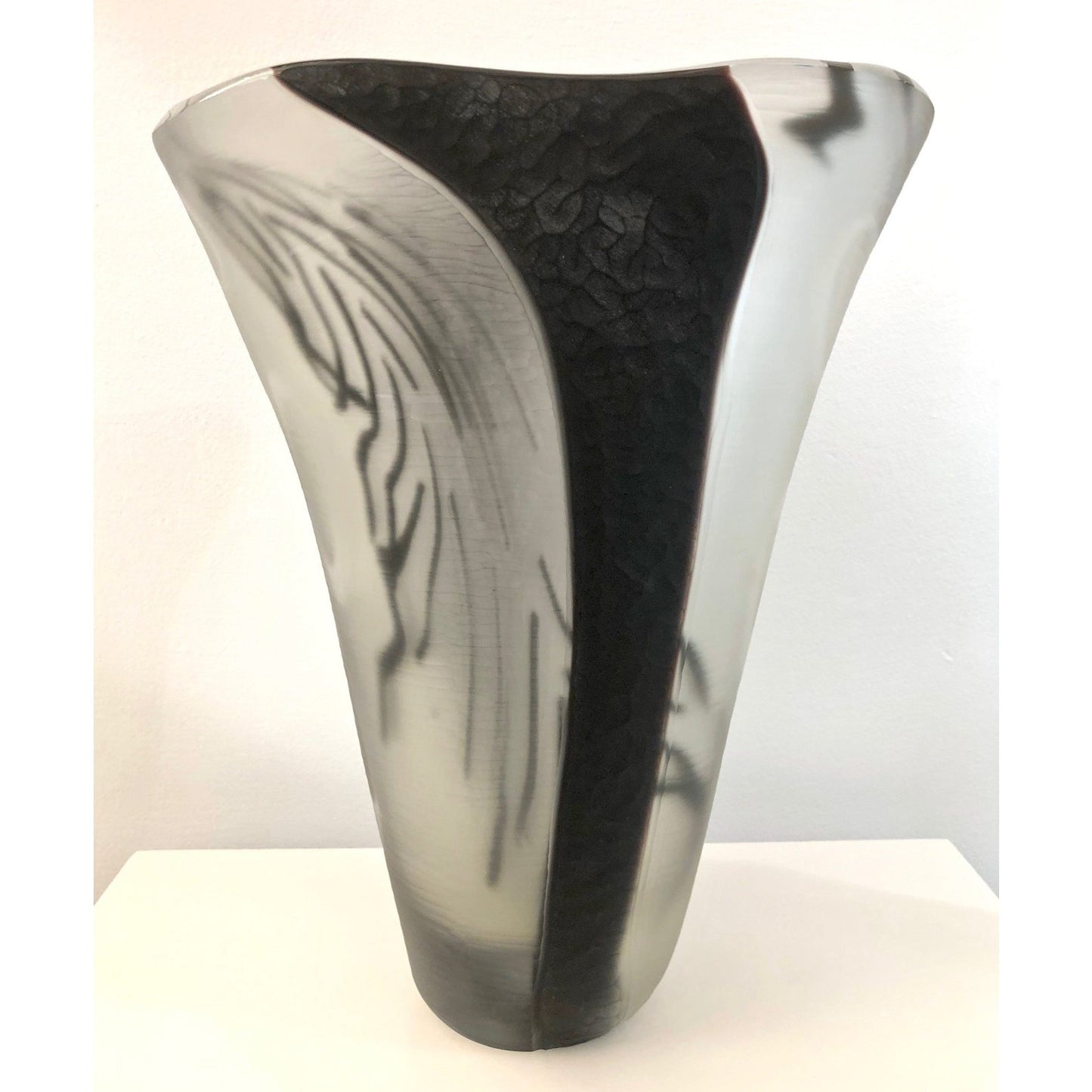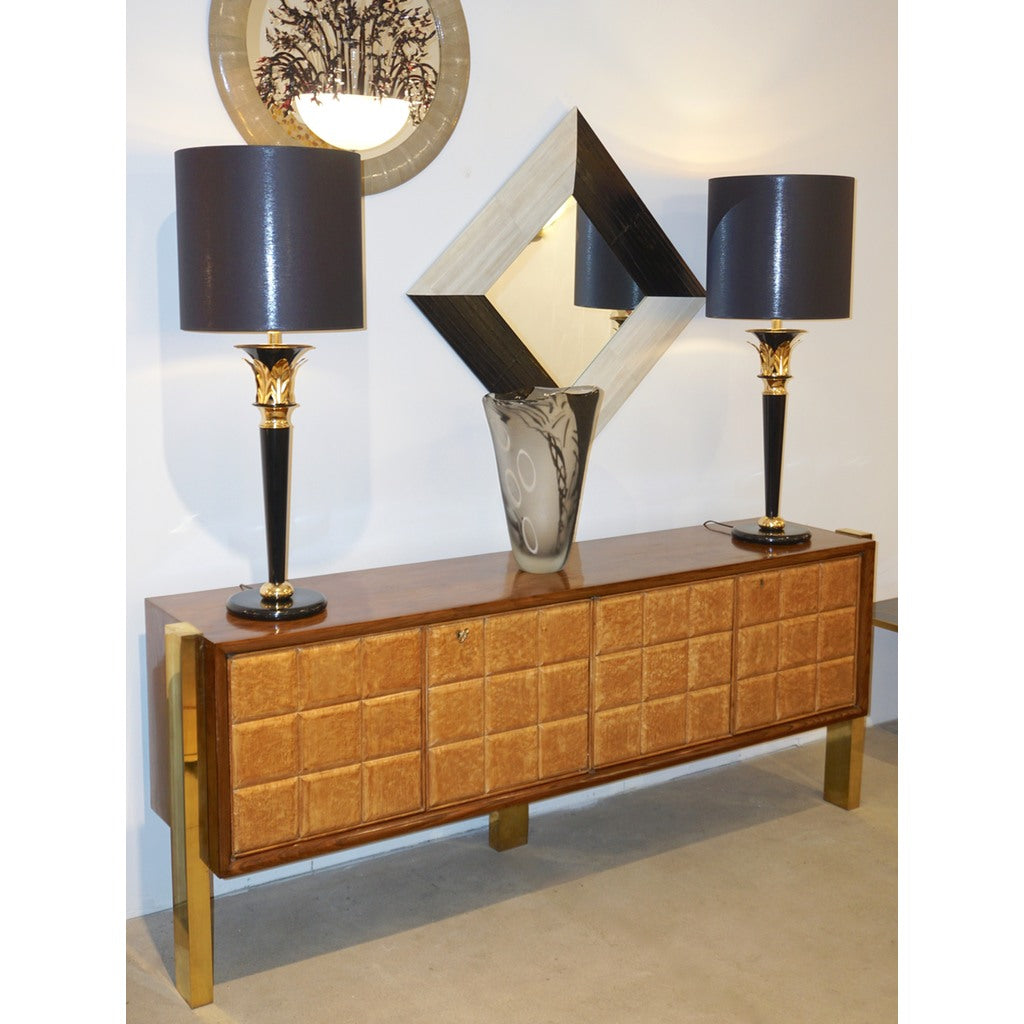 Terms of Service
RETURN POLICY
Exchange within 30 days or Store Credit.
No Refunds.


CONDITIONS OF SALE
You acknowledge and agree that:  
(1) We must receive payment in full before delivery unless other payment terms are specified. Special orders may require payment in full or a non-refundable deposit in the amount stated at the time your order is placed depending on the piece.  
(2) All of the items described are sold "as is" and with all faults. We make every effort to describe as accurately as possible the condition. For custom-designed items, we cannot guarantee the full accuracy of colors.
(3) Antique pieces inherently have wear and tear from age and prior use, and despite restoration, may still have faults, such as nail pops, scratches, splinters, blemishes, stains, etc. We are not responsible for any of the inherent characteristics of antique pieces.  
(4) All sales are final and may not be cancelled. The items purchased may not be returned for refund or exchange except as stated in paragraphs 5 and 6 below. 
(5) Returns will be accepted for an in-store merchandise voucher of equal value ONLY if the merchandise is returned in the same condition as existed when it was purchased, and ONLY if returned within thirty (30) days of the date of delivery, and ONLY if accompanied by the original sales receipt. 
(6) if any of the items that you purchased are damaged during deliveries carried out IN FULL by Cosulich Interiors and you notify us at the time of delivery, we will, at our expense, restore the piece to your satisfaction. If the piece is lost or stolen, or damaged beyond restoration, we will accept a return of the piece for a full refund or exchange, but are not obligated to replace the lost, stolen, or damaged piece. We are not responsible for third party pick-ups and deliveries.
(7) We are not responsible for delays in delivery due to strikes, lockouts, fires, accidents, act of God, or other circumstances beyond our reasonable control, and such delays will not entitle you to refuse delivery. All delivery times are approximate, and delivery dates for special orders cannot be guaranteed. Please contact us at least 72 hours in advance of the delivery date if you need to reschedule your delivery. You will be responsible for any additional shipping and/or storage fees, if any, incurred due to your failure or inability to accept delivery (except as provided in paragraph 5 above).  
(8) We will hold the items purchased for delivery for up to 30 days without charge. After 30 days, a per diem storage fee may be charged unless other terms are specified. 
SHIPPING POLICY 
We offer shipping methods through common carriers, including ground and expedited services. Most orders ship within 2 business days, unless otherwise stated. Your final shipping cost and estimated delivery timeframe will be available to you during checkout or provided when custom quotes are required.  
Some large and/or delicate items are marked with custom shipping and require a separate shipping method that will be provided after the sale based on your location.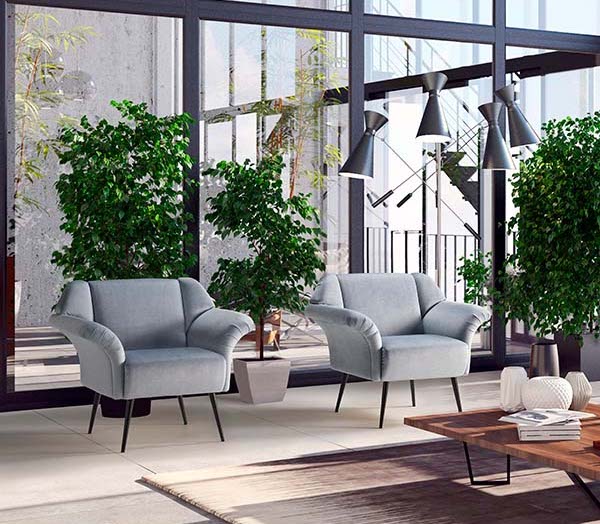 To the Trade
Join the Cosulich Trade Program for members-only services, discounts and early access to new arrivals.
Learn more