Cosulich Interiors & Antiques
Bespoke Italian Green Yellow Brown Gray Blue Modern Brass 6-Drawer Dresser/Chest
1089PD
Regular price
$9,995.00
/ Item
Regular price
Sale price
$9,995.00
Unit price
per
Sale
Sold
This item is customizable in finishes, sizes, shapes and colors. Please use the Contact Us button with your requirements.
Choose your colors to bring your personality into your space! Cosulich Interiors & Antiques' biggest aspiration, through this Contemporary Collection, is to communicate the power of colors to trigger personal healthy environments through your own narrative.
This contemporary modern graphic Pop Art design six-drawer dresser/sideboard is entirely handcrafted in Italy, with imagery of bright colors. The surrounds and drawers edged all around in natural brass trim are clad in reversed hand-painted colored glass: lapis lazuli blue, gray, apple and lime green, hunter green, yellow, navy blue, earth brown ... to your choice. High-quality materials with the front of the drawers crafted with ribbed glass and handmade texture handles in cast brass that outline and enhance the geometric pattern. The piece is raised on modern brass splayed tapering legs.
This design is ideal to add fun and functionality combined with Art, to a living room as much as a bedroom or entrance. Slight variations in colors and size, as well as irregularities in manufacturing, are intrinsic to these pieces due to the individual handmade production and conversion from inches to centimeters.
Height of furniture body only: 19.75 in
Outer Dimensions of each drawer H 9.5 in x W 19 in
Dimensions

H 30.75 in x W 59.5 in x D 20 in
H 78 cm x W 151 cm x D 50 cm
RETURNS POLICY
No Refunds
Exchange Within 30 Days or Store Credit
TERMS OF SERVICE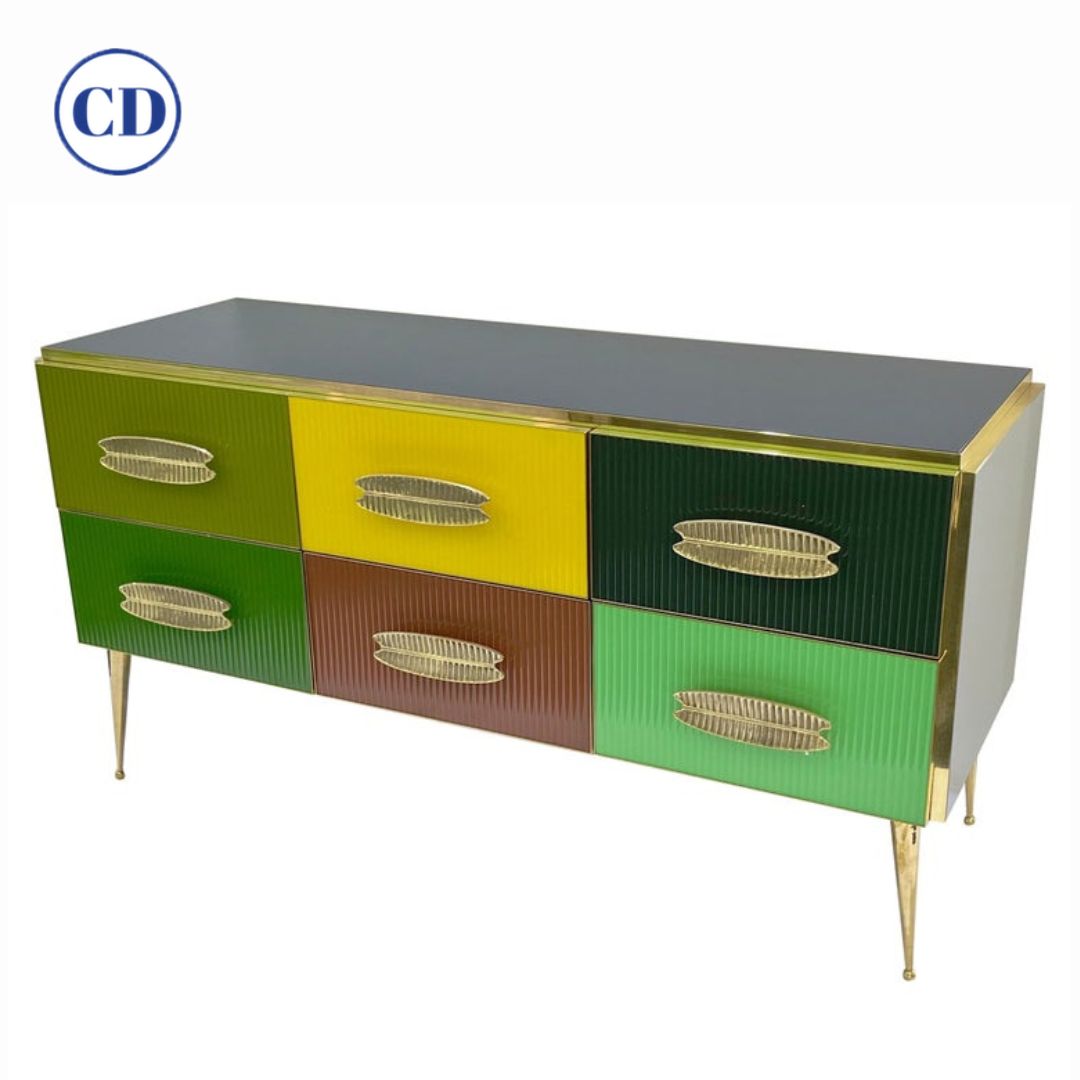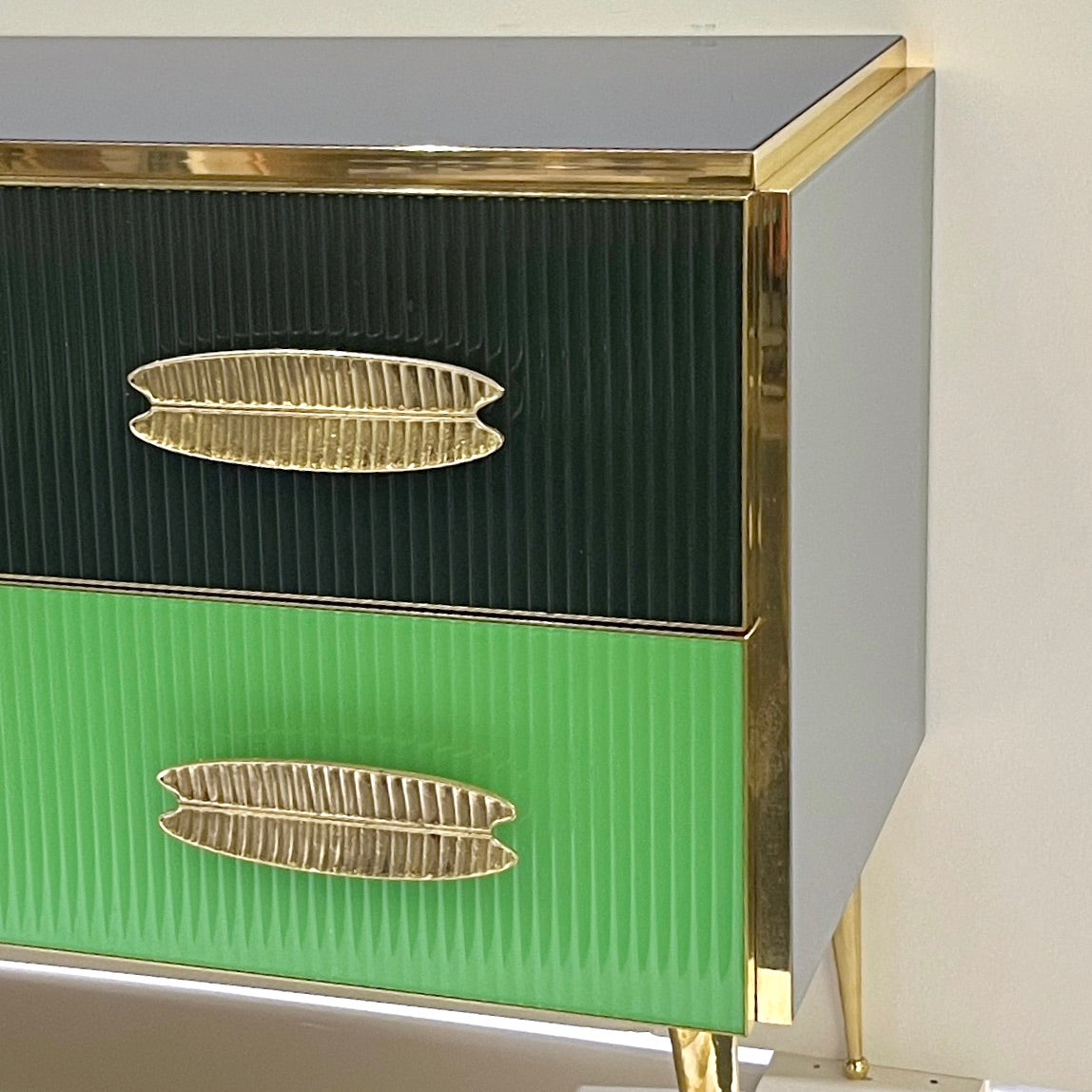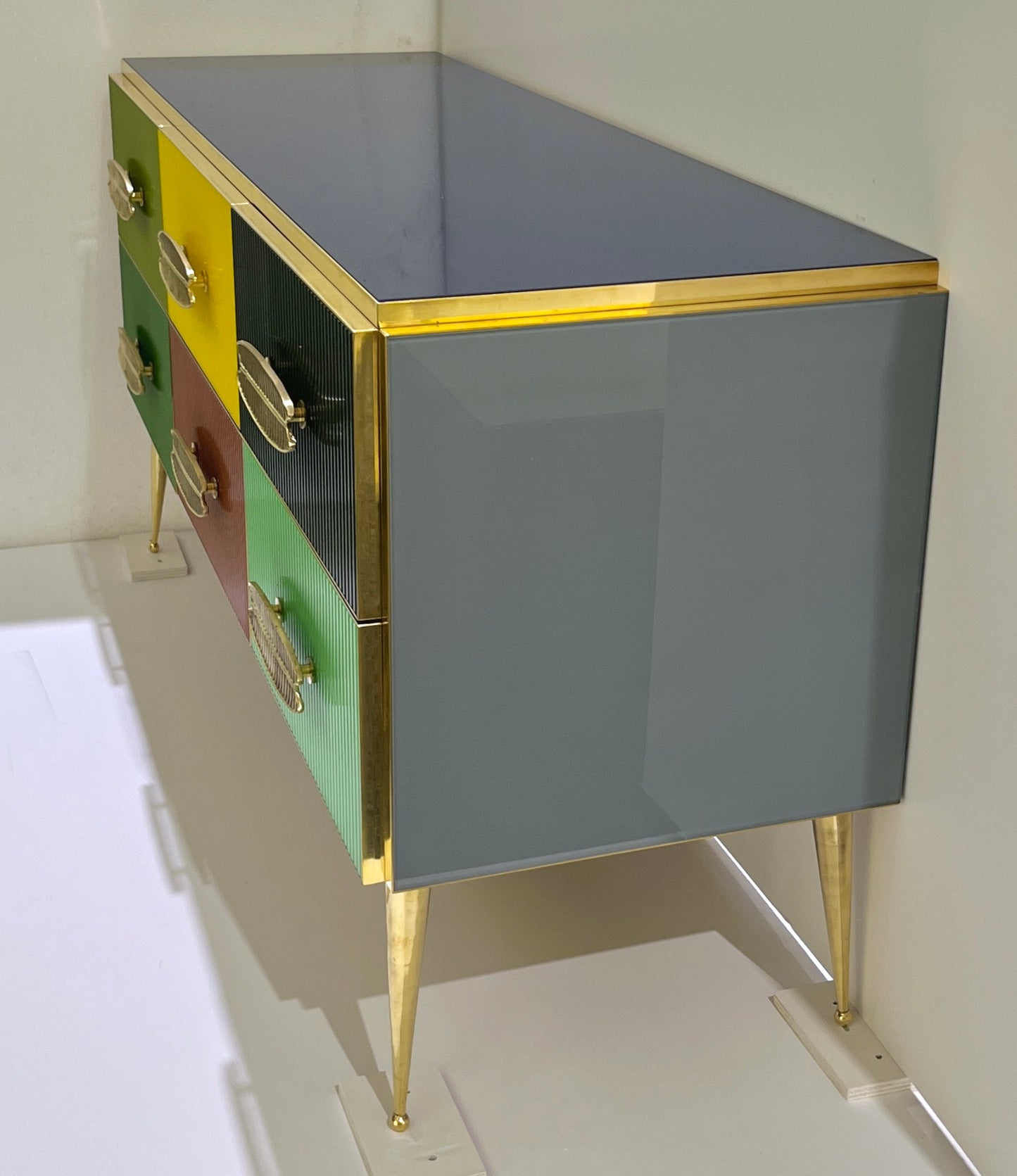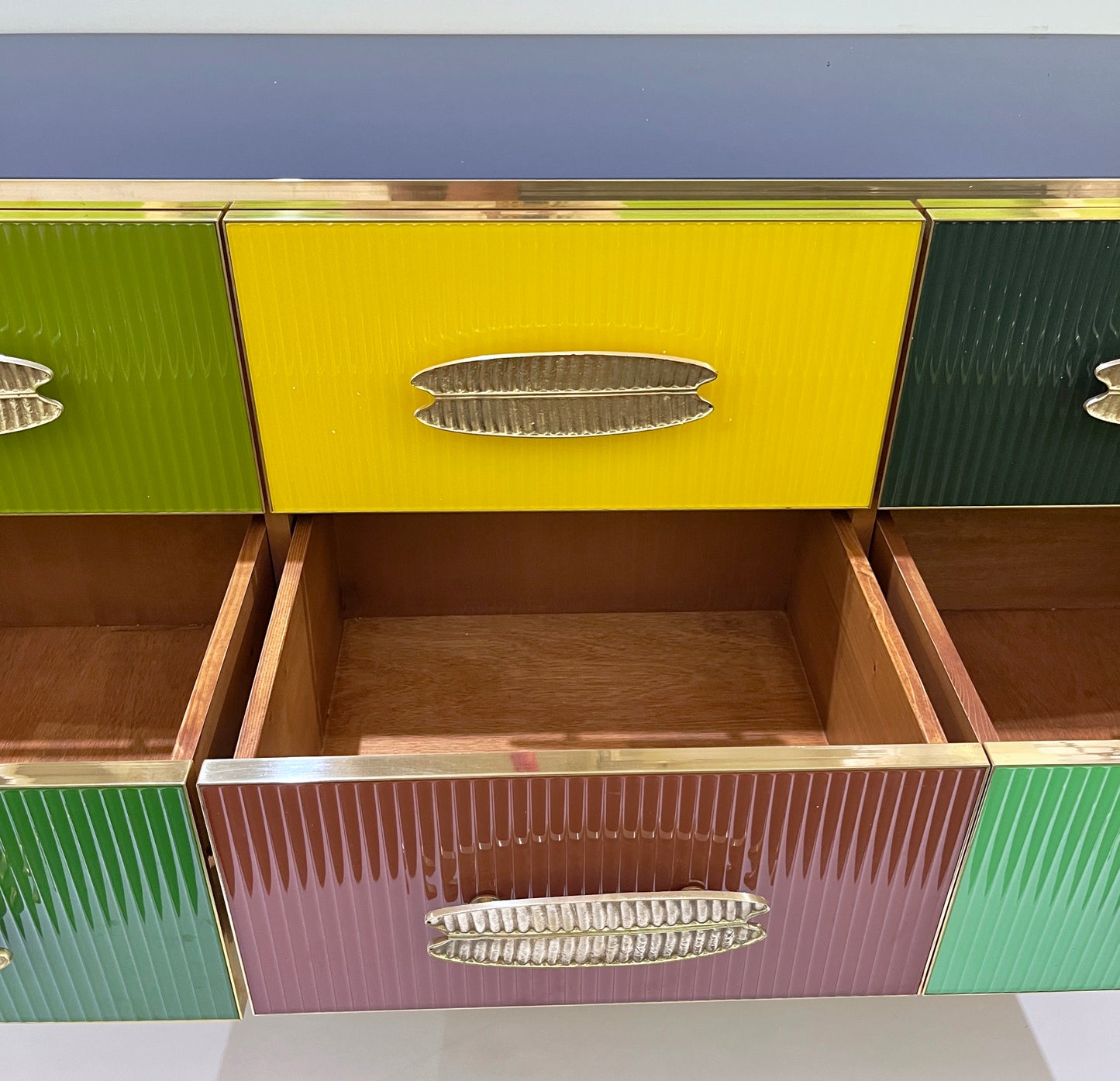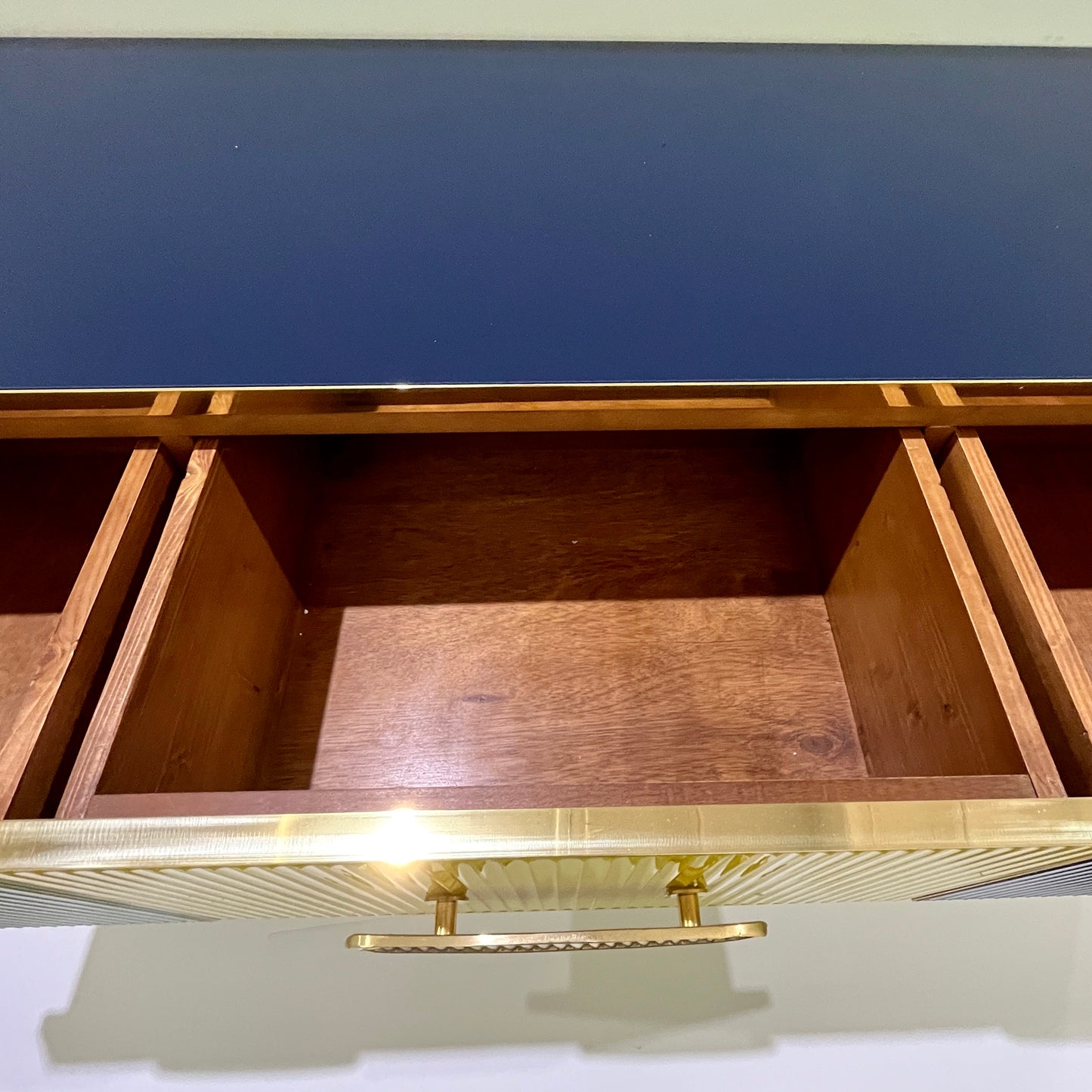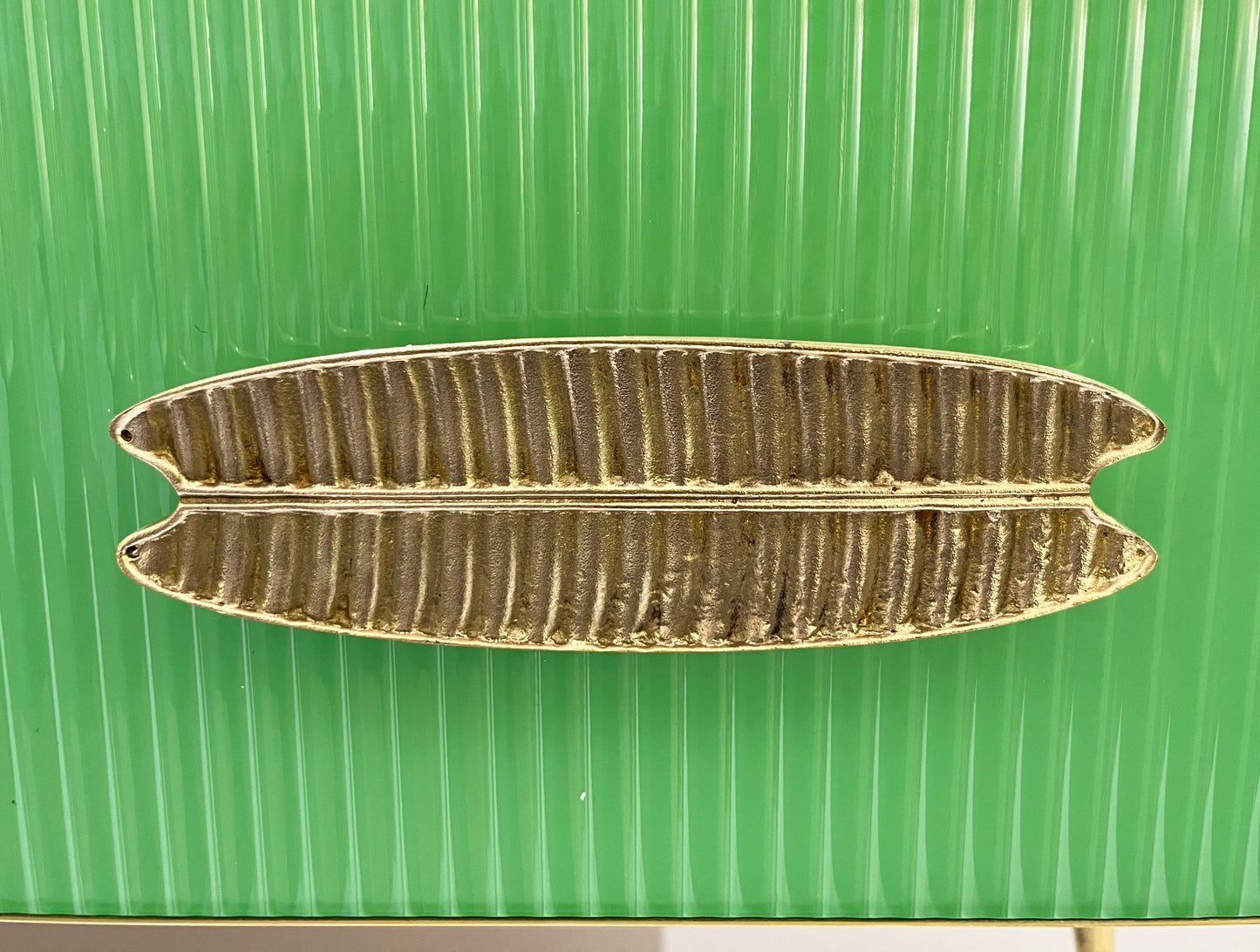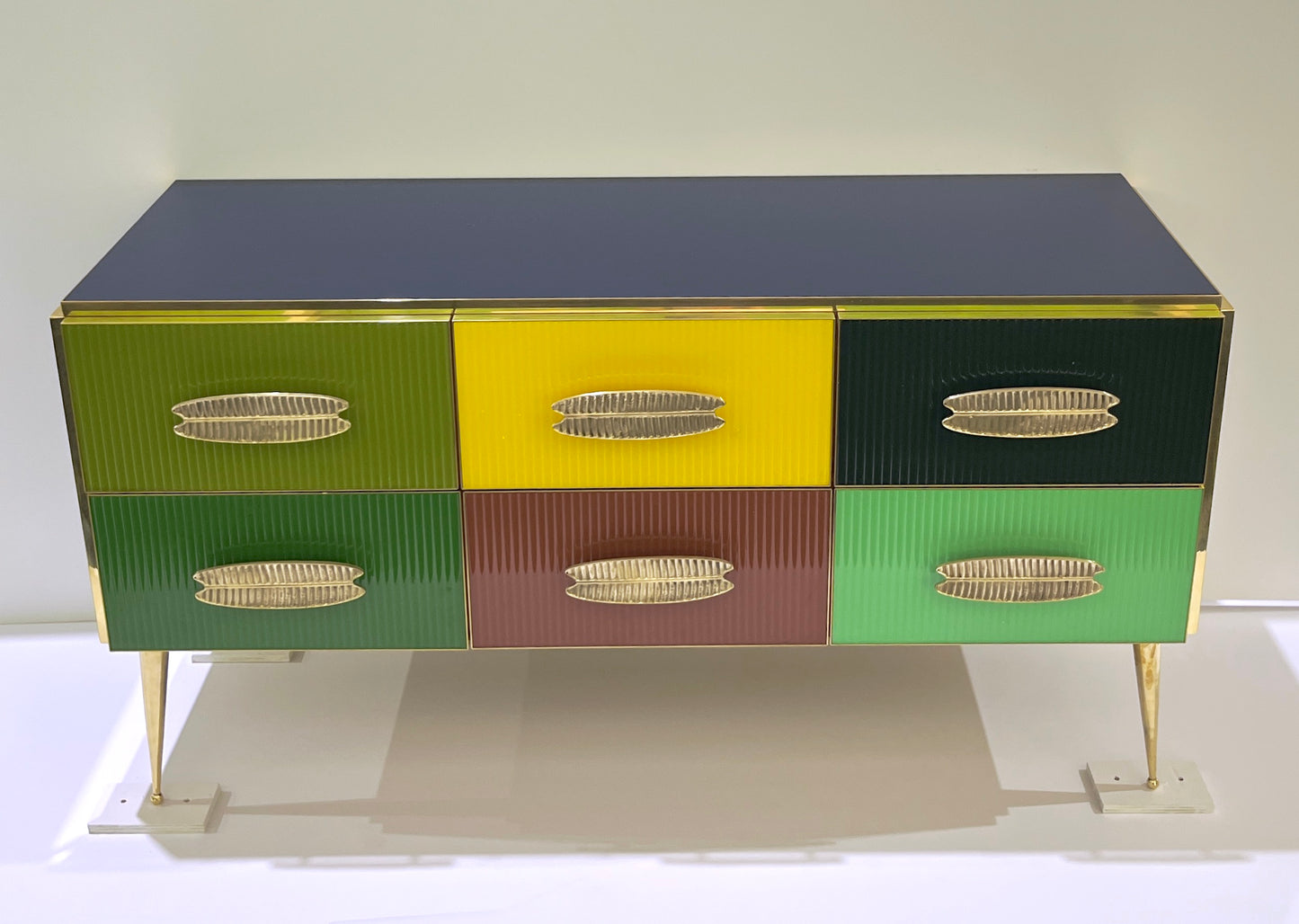 Terms of Service
RETURN POLICY
Exchange within 30 days or Store Credit.
No Refunds.


CONDITIONS OF SALE
You acknowledge and agree that:  
(1) We must receive payment in full before delivery unless other payment terms are specified. Special orders may require payment in full or a non-refundable deposit in the amount stated at the time your order is placed depending on the piece.  
(2) All of the items described are sold "as is" and with all faults. We make every effort to describe as accurately as possible the condition. For custom-designed items, we cannot guarantee the full accuracy of colors.
(3) Antique pieces inherently have wear and tear from age and prior use, and despite restoration, may still have faults, such as nail pops, scratches, splinters, blemishes, stains, etc. We are not responsible for any of the inherent characteristics of antique pieces.  
(4) All sales are final and may not be cancelled. The items purchased may not be returned for refund or exchange except as stated in paragraphs 5 and 6 below. 
(5) Returns will be accepted for an in-store merchandise voucher of equal value ONLY if the merchandise is returned in the same condition as existed when it was purchased, and ONLY if returned within thirty (30) days of the date of delivery, and ONLY if accompanied by the original sales receipt. 
(6) if any of the items that you purchased are damaged during deliveries carried out IN FULL by Cosulich Interiors and you notify us at the time of delivery, we will, at our expense, restore the piece to your satisfaction. If the piece is lost or stolen, or damaged beyond restoration, we will accept a return of the piece for a full refund or exchange, but are not obligated to replace the lost, stolen, or damaged piece. We are not responsible for third party pick-ups and deliveries.
(7) We are not responsible for delays in delivery due to strikes, lockouts, fires, accidents, act of God, or other circumstances beyond our reasonable control, and such delays will not entitle you to refuse delivery. All delivery times are approximate, and delivery dates for special orders cannot be guaranteed. Please contact us at least 72 hours in advance of the delivery date if you need to reschedule your delivery. You will be responsible for any additional shipping and/or storage fees, if any, incurred due to your failure or inability to accept delivery (except as provided in paragraph 5 above).  
(8) We will hold the items purchased for delivery for up to 30 days without charge. After 30 days, a per diem storage fee may be charged unless other terms are specified. 
SHIPPING POLICY 
We offer shipping methods through common carriers, including ground and expedited services. Most orders ship within 2 business days, unless otherwise stated. Your final shipping cost and estimated delivery timeframe will be available to you during checkout or provided when custom quotes are required.  
Some large and/or delicate items are marked with custom shipping and require a separate shipping method that will be provided after the sale based on your location.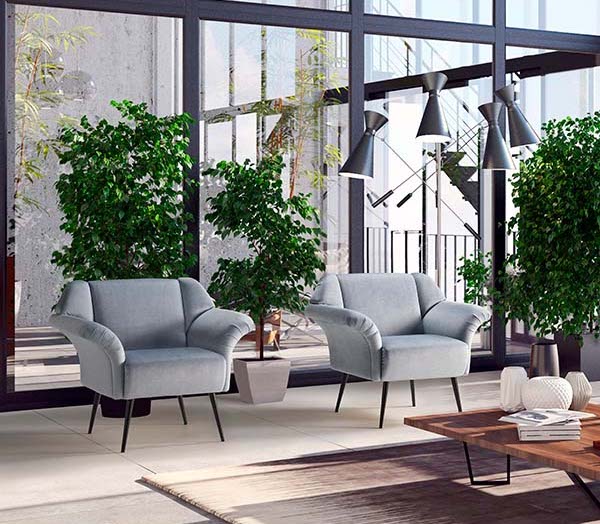 To the Trade
Join the Cosulich Trade Program for members-only services, discounts and early access to new arrivals.
Learn more